You can share files and folders by creating a public link through the app.
Open the app, press and hold the file or folder you want to share to access the options-menu. Press "Create Public link":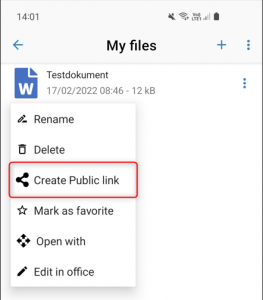 Choose what settings to use for the link, you can choose to protect the link with a password or make it available between specific dates, for instance. Press "Save" in the top-right corner to create the link.
You can choose to send the link by e-mail, text-message or just to copy it. Follow the same steps again if you want to edit the link.
Press "More" in the bottom-right corner and choose "Public links" to access your shared links.