The following guide shows you how to log in to the storage space via the web.
Go to https://secure.storegate.com/ in any browser.

Enter username and password and press login.

When you're logged in, you can see two icons at the top left, a folder icon and a padlock icon.
The padlock icon will only be visible if your account is able to backup via Storegate Online Backup. Files can not be uploaded on this storage space except via the Storegate Online Backup software. You can look at the files that have been uploaded and delete files from this area from the webpage and via Storegate apps for your mobile device. .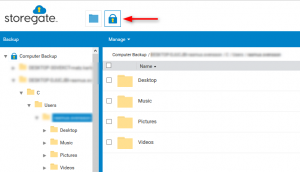 The folder icon is the storage area where files uploaded via Storegate Sync, Storegate Mapdrive, via Storegate.com or via Storegate's apps will be available.