The phone app provides an automatic backup of your photos and videos, scanning function and the option to edit MS Office files. You can download the app through the AppStore or Google Play.
Th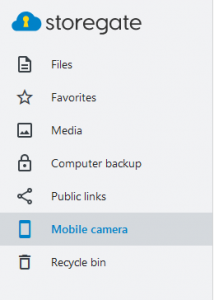 e app stores photos and videos under "Mobile Camera" in the left menu on our website. The older version of the phone app stored files in a folder called "Camera uploads" located under "Files" in the left menu.
Switching from the old app to the new one
Follow the steps below if you've used the old app (Storegate Old) and want to switch to the new one:
Uninstall the old app (Storegate Old) from your phone
Download the new app from Google Play or AppStore (requires Android 8 / iOS15 or higher)
Start the app and enter your username and password. Enable or disable the automatic camera upload.
Done!